The Top 10 Ways To Find The Right Practice Management Fit
Looking to close the gap between attorneys who *have* a system and attorneys who *use* a system? Read on.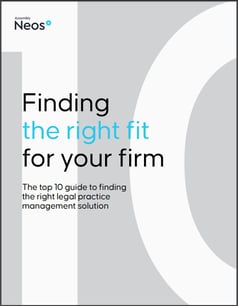 A recent ABA Legal Technology Survey Report highlighted a long-time trend: a significant gap between the percentage of attorneys who report the availability of law practice management systems and the percentage who say they actually use those systems.

That disconnect means wasted time, wasted money, and diminished internal efficiency.

The best way to ensure your legal technology is put to good use and profitable for your firm is to choose carefully.

And the first step toward choosing the right platform is to understand your own needs and priorities and keep them in sight as you assess your options.

In this guide, our friends at Assembly Software provide the top 10 ways to select the right option for your firm.
---