The covid-19 recovery playbook:


What Law firms learned during quarantine and
how they're embracing a digital transformation

On Demand: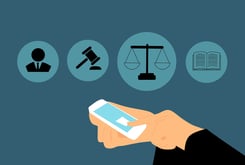 How did COVID-19 disrupt the legal industry? In short, it ushered in a new way of doing business.
Our recent survey taken during quarantine shows the legal profession rapidly evolving in response to the Coronavirus pandemic. From client acquisition and new service offerings to mobilizing an entire firm to work remotely.

The landscape has changed quickly, addressing how
firms engage virtually with clients, leverage new digital solutions to analyze the business and
offer new types of services, while ensuring safeguards to data security and adhering to
compliance best practices.

As a result, COVID-19 has brought digital transformation to the forefront of the legal industry,
requiring law firms to optimize their business in a digital age, and deliver client services free of
traditional brick-and-mortar office visits, and paper files.
Key Objectives:
Ways your law firm can achieve operational efficiency, while remaining productive in a work from home environment
How to deliver a better client experience with virtual collaboration solutions
How to enable your virtual law firm, addressing your technology infrastructure,
date security and client privacy
How to differentiate and automate your firm when your practice management software,
IT infrastructure, and support arrive in a single solution
Presenters:
Tomas Suros - Global Product Marketing, Legal, AbacusNext
Assly Sayyar - Attorney at Law, AbacusLaw in Abacus Private Cloud customer

Moderator:
Bob Ambrogi - Founder of LawSites blog, Technology Columnist at Above the Law

By filling out the form you're you are opting in to receive communication from Above the Law and its Partners.
---