Managing Modern Data Sources for Compliance and eDiscovery
Dealing with Website, Team Chat, Mobile Text, and Social Media Content in the Era of COVID-19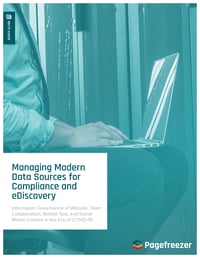 From team collaboration tools to mobile text messages, social media accounts, and beyond, company records now typically exist across a complex web of applications and cloud solutions — particularly in an era of remote work.
In this comprehensive guide, our friends at Pagefreezer break down:
Compliance and eDiscovery challenges in a remote world
What privacy regulations (GDPR, CCPA) mean for compliance & eDiscovery
Why recordkeeping and eDiscovery of online data is hard
Solutions for compliant recordkeeping of online data
In this white paper, Pagefreezer offers an Information Governance Lifecycle Model that assists organizations in dealing with web, team collaboration, social media, and mobile text content. The model addresses proper management of online data throughout its lifecycle—through the stages of creation, retention, management, and disposal.
Download this guide to ensure your processes meet the moment.
---


*By filling out the form you're you are opting in to receive communication from Above the Law and its Partners.