Download Academy for Private Practice Volume 3: All About Clients
The appeal of solo and small firm practice is easy to see: the opportunity for "real" legal work, solving actual client problems. Not to mention the greater control and flexibility. But with this freedom comes major responsibilities. Are you ready?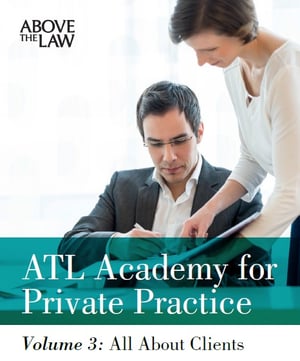 Above the Law is proud to publish an unmatched depth and range of content for solo and small firm lawyers. This eBook covers everything you need to know about dealing with clients.
Fill out the form today to receive your copy.*
*This eBook will be delivered via e-mail. Fill out the form accurately to ensure you receive your copy immediately. Contact research@abovethelaw.com with any questions.